News/Press Releases
Aircraft Maintenance Technology/www.aviationpros.com
The New and Old of Propeller Maintenance
By Walker Jaroch
Posted June 16, 2021 12:15
June 2021- The propeller – one of aviation's more iconic images. What isn't part of the public imagination is the work that goes into maintaining these crucial components of flight. Over the years, propeller maintenance has remained largely consistent, with advancements made on the blades themselves — namely, composite technology.

Todd Marinkovich, service manager, American Propeller Service of Redding, California, said that the big push for change they are seeing is people transferring over to... READ MORE....



---
March 25, 2015
For Immediate Release:

Ameritech Industries, Inc. is now a Hartzell Recommended Service Facility.

Hartzell Propeller Inc. of Piqua, Ohio and American Propeller Service, a division of Ameritech Industries, Inc. of Redding, California are pleased to announce the appointment of American Propeller as a Recommended Service Facility for the Western U.S. for Hartzell Propeller.

With over 39 years of propeller experience, American Propeller Service will be teaming up with Hartzell Propeller to meet the needs of aircraft owners that use Hartzell propellers on their aircraft.

As a Hartzell Recommended Service Facility, American Propeller met the numerous stringent requirements that include on-site quality control systems, audit processes and factory trained and highly qualified propeller experts. American Propeller maintains Hartzell-approved specialized propeller tooling and equipment along with Hartzell's special process approvals on an ongoing basis.

Along with sales and service of Hartzell propellers, American Propeller will also support Hartzell customers as a Factory Authorized Warranty Center. This will help ensure that Hartzell customers receive the highest-quality warranty repair work completed in the shortest possible time.

American Propeller will also better support Hartzell Propeller and its customers by the use of their fleet of transportation vehicles that cover a large portion of the western United States.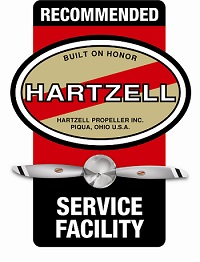 For more information contact:

Ameritech Industries, Inc.
20208 Charlanne Drive
Redding, CA 96002
USA
Phone: (530) 221-4470
www.ameritech-aviation.com
General Email: info@ameritech-aviation.com


---
Piper Flyer
Ameritech Industries: American Propeller
By Steve Ells
Posted May 5, 2014 12:15
April 2014- Propellers take a beating. During operations that range from the instant takeoff power is cranked on to power-off stalls and descents, blades continually flex due to changes in aerodynamic loading. Props endure years of light damage due to rock, ice and rain impacts.

In spite of being within degrees of separation from the top spot on the most highly stressed parts on an airplane, props are so dependable it's probably no stretch to say... READ MORE....